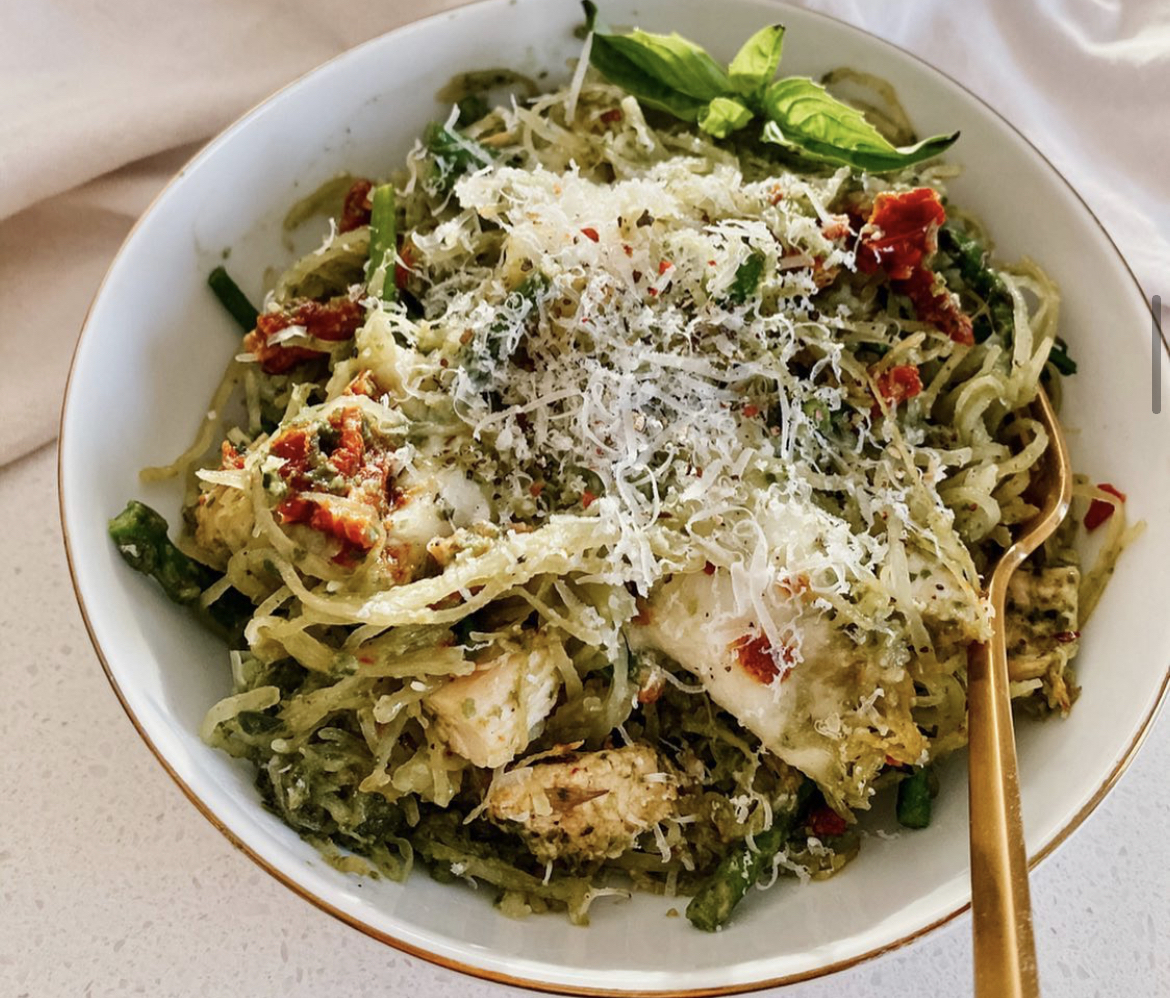 You'd never know how delicious spaghetti squash can be until you try this recipe. It's healthy, delicious, and surprisingly very easy to make!
Carrisa Stanton of broccyourbody recently shared a delicious spaghetti squash recipe that I couldn't help but share.
It's full of powerful nutrients that your body will love. All you need is about 15-20 minutes for this yummy dish!
INGREDIENTS
1 small-medium sized spaghetti squash
1 large or 2 smaller chicken breasts
2 cups asparagus chopped
1/3 cup sun-dried tomatoes chopped
1 cup pesto
Mozzarella and Parmesan cheese to top
Kosher salt & pepper to taste
Olive oil
INSTRUCTIONS
Preheat your oven to 350 degrees. Stab your spaghetti squash a few times with a fork then microwave for 5 minutes (this will make it easier to cut). Cut lengthwise and bake for 20-30 minutes or until you can easily scrape the spaghetti squash with a fork.
Add the spaghetti squash to a large baking dish and turn the oven to broil.
On a medium sized skillet, heat a generous drizzle of olive oil over medium heat. Season chicken breast with salt and pepper (and whatever other seasonings you want to add!) and Cook for 5ish minutes each side. (Cook time will depend on the thickness of your chicken).
Once cooked through, let cool and chop into bite sized pieces. Add another drizzle of oil to the pan and then add asparagus and sun dried tomatoes. Season with salt and pepper and sauté for about 3 minutes until asparagus begins to soften.
Add the chicken, asparagus, sun-dried tomatoes and pesto to the spaghetti squash and toss to combine. Season to taste.
Top with mozzarella cheese and broil until it melts. Serve with fresh Parmesan cheese to top.