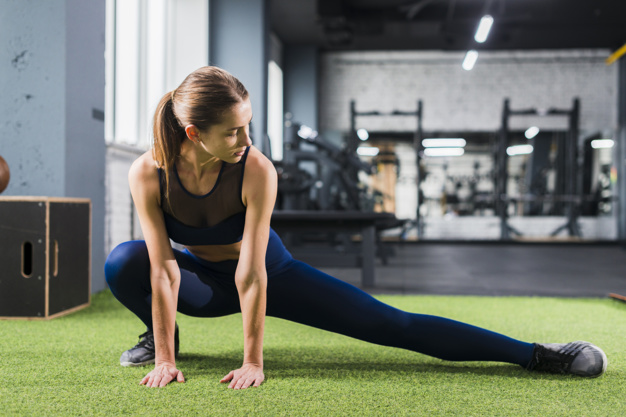 Before you know it, summer is going to be here and it will be time to hit your favorite lake, beach, or pool.
I've heard so many of my friends and family members talk about how Covid slowed down their workout habits. One of my cousins recently told me about how much she has missed her yoga practice, while a friend of mine was frustrated that she had stalled her workouts at the gym and couldn't seem to get inspired at home.
If you find yourself in the same boat, don't stress. The secret to your success is just to get started again on a routine! Once you get going, you'll be amazed at how quickly you'll see results.
The following tips (many of which are just reminders) will help prime both your mind and body in the coming weeks.
1. Stretch Out and Breathe Deeply
Develop flexibility by giving a few yoga poses a try — or even invest in an online yoga membership. One of my favorite yoga classes online are taught by Bryan Kest. I love his approach and passion for motivating others.
Stretching and deep breathing will help send oxygen to your muscles and prime your body for weightloss and muscle growth.
2. Build a Cardio Base
Prime your cardiovascular system by engaging in regular cardio exercises (such as running, aerobics, cycling, and more) between three and five days a week for at least 20 minutes per session.
Building a cardio base will help you burn fat, ramp up your metabolism, and look amazing in the sun.
3. Get a Workout Buddy or Trainer
Team up with a buddy for regular cardio and strength-building sessions or invest in a trainer who will push your limits. Do what feels right to you so that you can create a consistent and motivating practice.
4. Lift Weights
A solid weight training program is a must as you work toward your goals. It's not about getting all bulked out, but working to gain overall strength and protecting your muscles and joints from atrophy.
Also, studies performed by Wayne Westcott, Ph.D., from the South Shore YMCA in Quincy, Massachusetts, found that the average woman who strength trains two to three times a week for two months will gain nearly two pounds of muscle and will lose 3.5 pounds of fat.
5. Yoga Plank Crunches
Yoga plank crunches will help firm your belly, strengthen you back, and even add definition to your arms. Attempt between 10-15 repetitions and three reps per workout.
6. Develop a Meditation/Mindfulness Practice
Begin with 5-10 minutes of silence a day, accompanied by deep breathing through your nose. This can be done at any time during the day — some prefer in the morning when they wake up, others after a workout or before bedtime.
A mindfulness practice will increase your focus, oxygenate your body, and improve your sleep.
7. Build a Healthy Digestive System
Improve your digestive system. No matter how hard you exercise or oxygenate your body, it's imperative that you take care of your gut. Invest in a probiotic/prebiotic supplement to maintain healthy bacteria and aid digestion.
Last Words
As you jump into workout mode, don't be too hard on yourself as you get into a flow. Make the process as fun and inspiring as you can. As the days progress, you'll be amazed at how your efforts will pay off both mentally and physically!